Monthly tournaments will now be held at the Tower's Bar!
It was quite apparent to everyone Toys for Tots outgrew Andrew's Saloon quickly
There is plenty of room at the Towers and although we are grateful to Andrew's for holding the first 2 Johnny K's Toys for Tots we look forward to the event being held in the coming year at the Tower's Bar on December 4, 2010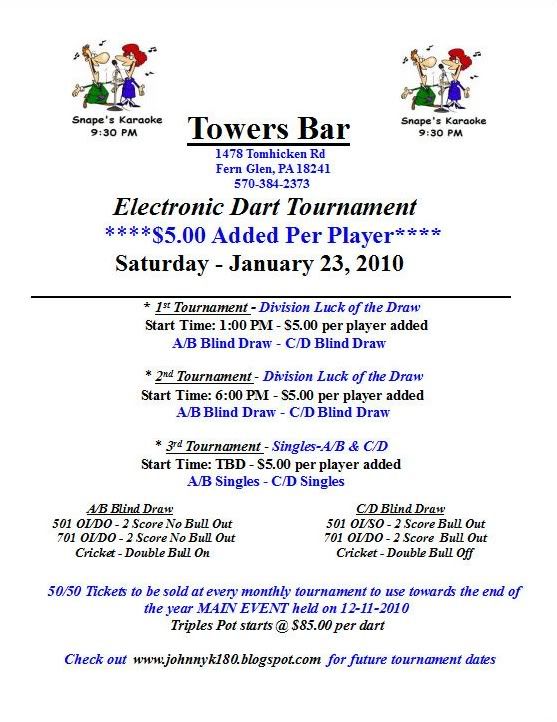 We had a good turn out for the 1st qualifier! We had 56 players for the 1st tournament, 48 for the 2nd and 19 for the singles. I look forward to this number growing. Remember these tournaments are for you guys and we hope you had a great time
Triples Pot starts out at $123 per dart at the next tournament.
Congratulations to Tom Blake for hitting 1 for $181
Congratulations to all the winners! Well played by everyone
A/B 1st Tournament (30 Players)
1st - Ed Bennett/Steve Keller = $115/115
2nd - Mike Romanali/Matt F = $80/80
3rd - John Kuczynski/Todd = $30/30
C/D 1st Tournament (26 Players)
1st - Jessica Johnson/Tom Blake = $110/110
2nd - Ralph/Dan S = $60/60
3rd - Craig Demshock/Big Geppy = $25/25
A/B 2nd Tournament (24 Players)
1st - John W/Allen Johnson = $90/90
2nd - John Kuczynski/Timmy Johnson = $60/60
3rd - Ed Bennett/Ed Remstock = $30/30
C/D 2nd Tournament (24 Players)
1st - Colleen Eldredge/Leah Amato = $90/90
2nd - Tom Blake/Dan S = $60/60
3rd - Mike K/James D = $30/30
3rd Tournament A/B Singles (11 Players)
1st & 2nd Split - Big Dan & John Kuczynski = $125
3rd - Allen Johnson = $25
3rd Tournament C/D Singles (8 Players)
1st - Leah Amato = $60
2nd - Adam = $40
3rd - Bobby R = $20